At Identity Automation, we bet big on user experience from day one. We started with the premise of UI designs for new self-service and delegation tools. During our early days, I had worked with numerous vendor products, all of which I felt were overly complicated and more constrained than they needed to be. Since then we have continued to innovate.
Built with the future of user experience in mind, today we released RapidIdentity 3.3, which includes some exciting new feature additions to RapidIdentity.
We designed 3.3 to make it even easier for people to use our identity and access management technology. We already think RapidIdentity is simple to navigate, so these additions really show our commitment to improving our user's experience; whether you're an IT admin who manages the platform for your organization or you're a business line manager who manages access for your direct reports.
With RapidIdentity 3.3, we've introduced annual re-certification campaigns in addition to time-based access expiration, a frequently-requested feature that allows us to better support organizations in regulated industries and with security policies that require it.
As part of our campaign feature, RapidIdentity 3.3 provides you with entitlement extensions. If a supervisor is overwhelmed and know they won't be able to address all their entitlements, they can extend the deadline by a week; and they can do that on a per-user basis or for many users all at once. To our knowledge, RapidIdentity is now the only IAM solution in the market that can provide users with entitlement extension.
We're finding that more and more of our customers are using Amazon Web Services (AWS) for at least some part of their infrastructure. With that many customers using both RapidIdentity and AWS, we wanted to make the management of both a seamless process, so we released a new and improved AWS Adapter which internalizes many of AWS's APIs. This will allow organizations to synchronize local users and groups to AWS. No deep AWS coding knowledge required.
My Dashboard is a new tab within our Dashboard module that will provide you with easy-to-read security insights to all identity-related events throughout the system. They're listed in plain language and summarized in an easily digestible chart. The contents of our previous Dashboard module have been moved into a new Executive Dashboard tab. These adjustments are just the beginning of building out the Dashboard module. It's a feature we're focused on improving even more as we move into the future, so stay tuned to learn about even more updates to it.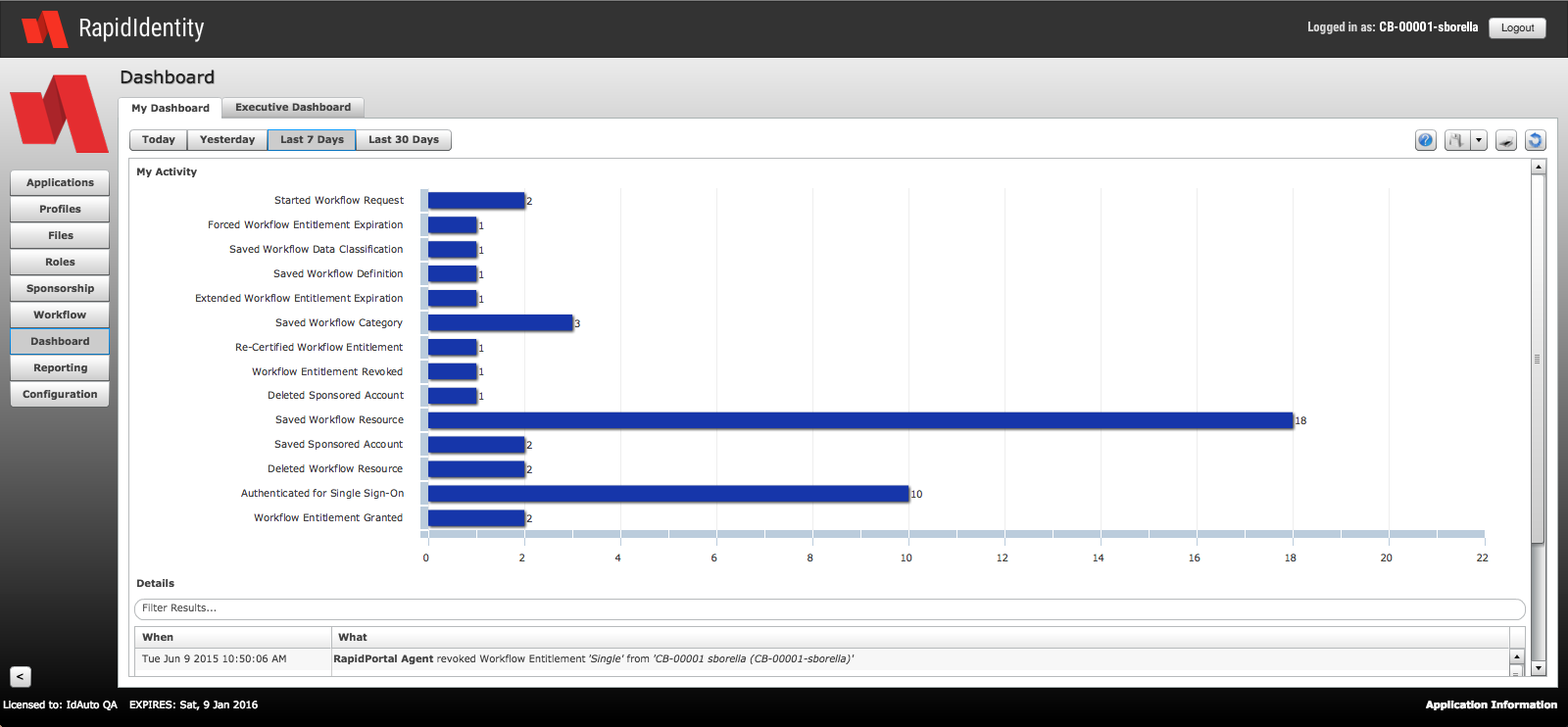 In the coming weeks and months I'll have much more to share with you about RapidIdentity, so keep coming back to learn the latest.
And, of course, we want to hear from our customers who are using RapidIdentity. If you have feedback or suggestions to share, please let us know. We want to make your experience using RapidIdentity as smooth and intuitive as possible.
To learn more about RapidIdentity, visit this page.