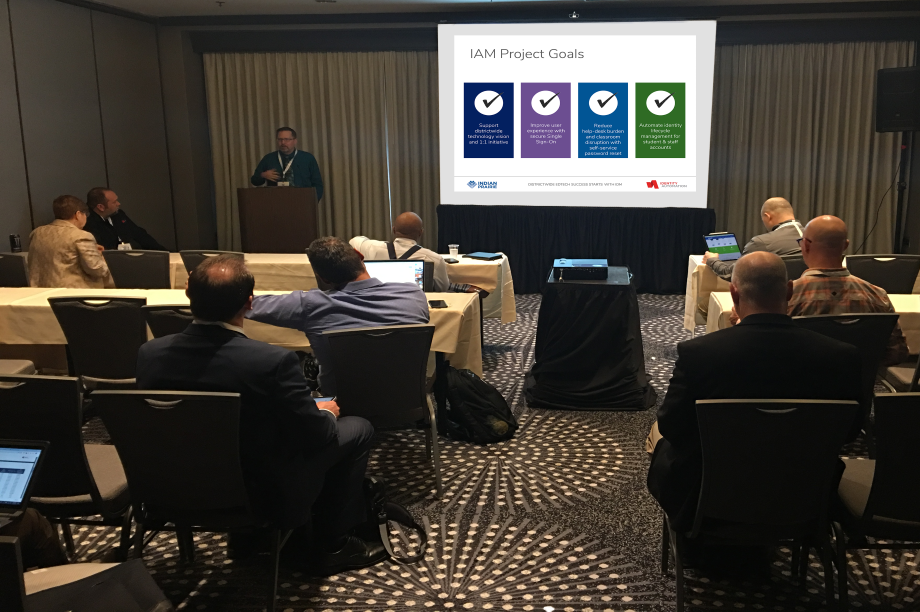 Last month, Identity Automation's top K12 education experts traveled to Portland, Oregon for the Consortium for School Networking (CoSN) 2019 Annual Conference. CoSN, a member-based association and advocacy group, spotlights emerging technologies to K12 EdTech leaders.
During the conference, our customer, Illinois-based Indian Prairie School District (IPSD) presented Why Districtwide EdTech Success Starts with Identity Management. Andrew Peterman, IPSD's Assistant Director of Technology Services, discussed how the district utilized modern identity management to streamline access to applications, support a districtwide 1:1 program, and devote more time and resources to tackling new technology initiatives.
Misconception Aired: SSO Portals vs. Full IAM Solutions
At this year's event, themed Envision 2030: Leadership for Learning, attendees had the opportunity to attend keynote sessions and mingle at vendor pods without ever leaving the Innovation Central exhibit hall. This unique conference environment set an emphasis on peer-to-peer networking, which gave our K12 experts the opportunity to speak one-on-one with a number of school district IT professionals from across the country. Interestingly, we found a recurring theme that ran through most of our conversations—a misconception regarding single sign-on (SSO) and how it differs from identity and access management (IAM).
Many of the people to whom we spoke were under the assumption that implementing an SSO portal would handle all of their district's identity management and security needs. While there is no doubt that SSO is an important tenet of IAM, a full-featured IAM solution has other, equally important capabilities that go well-beyond those of an SSO portal alone. IAM encompasses a number of crucial capabilities, such as automated lifecycle management (ALM), identity governance, privileged access management, and password management.
Having selected our IAM platform, RapidIdentity for both its SSO and greater automation capabilities four years prior to the presentation at CoSN 2019, IPSD's Peterman arrived ready to discuss the district's identity management journey and how a full IAM solution transformed their processes with automation.
Setting the Groundwork with SSO, While Recognizing the Greater Potential of IAM
IPSD is the fourth largest school district in Illinois and a perfect example of the success a more comprehensive approach to IAM can deliver. In his presentation, Peterman shared best practices and lessons learned from their RapidIdentity implementation. He discussed how, as the district expanded its digital curriculum and learning applications, staff and students struggled to remember the credentials for a growing number of user accounts. Of course, this brought in a flood of questions and requests for password resets—producing new burdens for the help desk. As a result, district leadership made a unanimous decision that an SSO solution was necessary to improve the user authentication experience. However, they also recognized automation and self-service capabilities were critical to accomplishing their EdTech initiatives and broadened their search to finding a more complete IAM solution.
Citing RapidIdentity's robust automated lifecycle management, password management, and kid-friendly authentication capabilities in addition to SSO, Peterman explained how a full IAM solution has helped Indian Prairie streamline digital learning and overcome the login and IT efficiency challenges they were facing.
Now, students and staff get direct access to 70 education applications with just one set of credentials via SSO portal. In addition, students can now reset their own passwords with pre-set challenge questions, which has reduced help desk calls by at least 90%.
Furthermore, automating student and staff lifecycle management has drastically reduced turnaround time for new account creation from a minimum of 72 hours to a maximum of 24 hours. This necessary combination of usability and efficiency enhancements has enabled IPSD to become a 1:1 district with Chromebooks for every student in grades 2-12.
Looking Forward to Next Year
This year's CoSN was another great opportunity for exchanging ideas and education—like the differences between SSO portals and full-featured IAM solutions. We can't wait to come back next year and help more districts in their quest to bring more advanced and collaborative technologies into the classroom.
Missed us at CoSN? Make sure to catch us June 12-13 at our next two education shows: CoSN's Illinois CTO Clinic and Texas CTO Clinic where we are exhibiting and presenting Identity Management Success Stories and Lessons Learned Across Multiple District-Wide IAM Implementations with Tomball ISD's Director of Technology Services, James Watson!