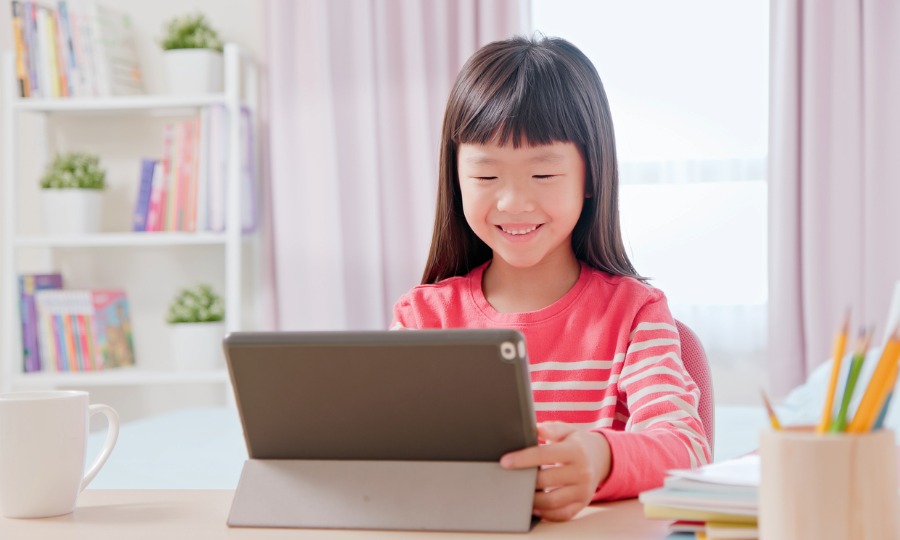 2020 for K-12 districts was anything but standard— so how do we define the education model that occurred in this uncharted territory?
News articles make reference to the shortcomings of what is referred to as remote learning, distance learning, online learning, virtual learning, digital learning, hybrid learning, blended learning, hyflex learning, and more. Take a look at the recent headlines:
We've all heard the saying "don't believe everything you read," and it couldn't apply more here. The reality is, what each of these headlines actually represents is "pandemic learning," or emergency remote learning due to COVID-19.
Online Learning vs. Pandemic Learning
In the race to migrate from what was "normal", or education pre-pandemic, teachers needed to make drastic changes in a very short period of time. Devices were issued to students and educators that may not have used them before. At the same time, teachers and students were suddenly required to use platforms, such as Zoom, Google Classroom, and single sign-on (SSO), without prior knowledge or training.
Without a name for this unprecedented type of learning, districts quickly began referring to it as any number of existing technology terms. However, there are few, if any, cases where districts had the opportunity to research and implement the best practices associated with any of these types of learning. What was really happening was "pandemic learning"— emergency remote learning, rolled-out with little notice or preparation.
Districts that were able to make this pivot quicker than others already had elements of the actual pedagogical practices of true blended learning and online learning in place. So, what is the difference between these methods of learning and the current state of pandemic learning?
At a high-level, blended learning is an instructional practice where students independently receive their instructional content online and use class time to do collaborative work, meet with the teacher, or complete their independent work. This model gives students a level of control over their time, pace, path, and place. In a traditional blended learning model, students go to school in a brick-and-mortar setting at least part of the time.
Online learning, on the other hand, follows many of the best practices that one might find in a personalized learning classroom. Students have a voice and choice in learning activities and can pace themselves as they learn best. There may be synchronous activities, where students and educators meet online together at the same time; however, students are not online following a schedule all day. Many of their learning activities are asynchronous, meaning they can occur at any time time, such as watching an on-demand video.
Looking forward, researching and implementing the instructional models of blended learning and personalized learning can help with a smoother transition back into the classroom post-pandemic. There are also a variety of ways K-12 districts can take lessons learned from pandemic learning and roll-out new strategies once the post-pandemic journey begins.
How Pandemic Learning Has Fundamentally Changed the Traditional Classroom
Over the past few years, there has been a saying in the cybersecurity space that the traditional perimeter is dead. Previously, when looking to secure access to a digital environment, the prevailing wisdom was to stand up a firewall (or a security perimeter) and block all traffic that wasn't coming from within the organization's network and devices.
However, as organizations moved to more cloud-based SaaS applications (like Office 365 and Google Apps) and allowed their users to access the network and resources from their own devices and homes, this traditional security perimeter was no longer able to serve its function.
With location no longer a constant that could be used to determine who should or should not be let in, cybersecurity professionals recognized that understanding the identity of the user was the only way to provide security. Instead, the access that each user is allowed must be determined by what that individual identity is entitled to access— a challenge when this is constantly changing!
Education is going through a similar realization process now. Technology is replacing the old whole-group model, but not the role of human instruction, and making a personalized education experience a premium.
Traditionally, access to instruction has also been secured by conventional perimeters: the walls of a school and classroom. If a student needed to access the instruction for a certain course, they would be required to show up during a specific window of time to a specific location. If they weren't in the right place at the right time, then they weren't able to access that instruction.
However, the pandemic has forced a warping of the time and space that instruction operates within. Now, a class is forced to be available to a student largely whenever they can and have a strong enough Wi-Fi signal. Just as the traditional perimeter has been removed in cybersecurity, the traditional perimeters in education are no longer sufficient.
Many school districts are facing the reality that even by Fall of 2021 there likely will not be a 100% return to a monolithic, fully in-person and synchronous learning. There will be in-person, fully remote, hybrid, pods, synchronous and asynchronous, competency-based, and even more modalities that are likely to change multiple times throughout the year (as we have seen over the past 12 months).
To meet this challenge, K-12 districts must put the identity of the individual user at the heart of all processes, policies, and systems. This is the only way they will be prepared to maintain academic continuity and provide an innovative educational experience that is relevant and accessible to each student.
Beyond Classroom Walls: Adapting to the New Normal Post-Pandemic
It's important to remember the lessons learned throughout pandemic learning and take advantage of new skills garnered in order to create a more individualized and personalized experience for students. In addition, innovative methods, pioneered out of necessity, are emerging as a result of pandemic learning. These approaches need to be shared, celebrated, and incorporated into K-12's new normal: technology-infused learning.
At the core of education's evolving digital landscape lies the identity of the individual user. Understanding that identity and what that user specifically requires is the key to unlocking the potential of technology-infused learning. It is what will allow teachers to teach, students to learn, and parents to stay informed.
Join Mandy Froehlich, Author and Education Consultant, and Carter Dunbar, Director of Product Marketing at Identity Automation, on February 24 from 12:30 - 1:30 CST as they host an interactive discussion encompassing challenges, best practices, and success stories as they relate to technology-infused learning.