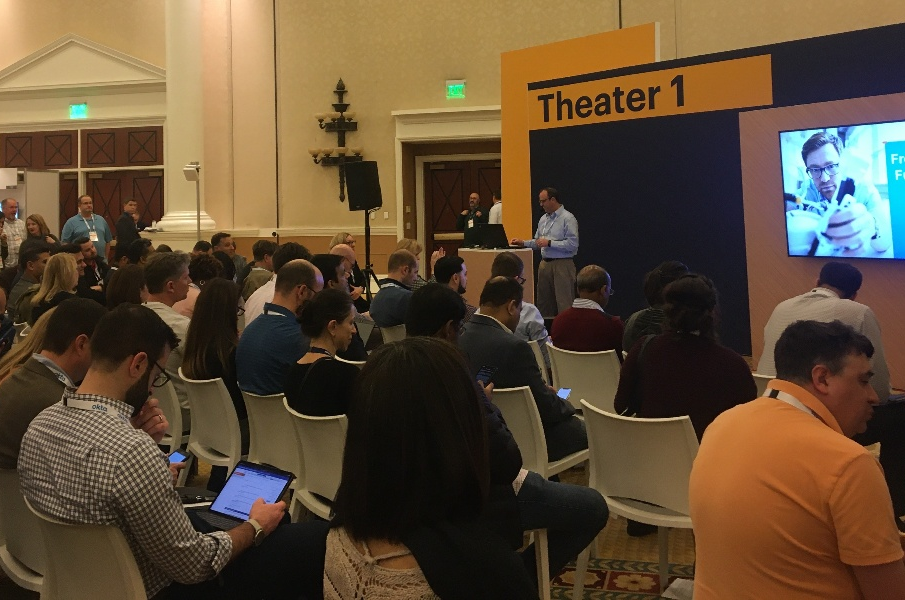 It was another great year for Identity Automation at Gartner's Identity and Access Management Summit. Gartner is the world's leading research and advisory company, and attendees included trailblazers, thought leaders, and industry experts pushing the bounds of Identity and Access Management (IAM). Key members of our team put their cards on the table in sunny Las Vegas and had some serious conversations with representatives from varied backgrounds and industries.
For us, a conference highlight was hearing Identity Automation customer PROS, a leading provider of AI-based solutions that power commerce in the digital economy, present From Outdated to Automated: How PROS Achieved IAM Success. Darius Linder, Senior Lead Cloud Infrastructure Engineer shared how PROS utilized our IAM product, RapidIdentity to update their existing on-premises software.
Organizations are Rolling the Dice with Outdated Access Management
A recurring theme Identity Automation's representatives heard was the issue of Access Management (AM), automated AM in particular. AM aims to grant authorized users the right to use a service, while preventing access to non-authorized users. Automating access management helps take the risk of human error out of the picture.
The fear with automated access management is that it will be too complex and end up being more effort than manual processes, however there are no static rules that apply to every organization's automation needs. Automated AM can be as simple as automated account provisioning with exceptional access requests being handled manually, or as advanced as leveraging Security Information and Event Management (SIEM) tools to automatically detect anomalies and therefore, revoke access.
From our in-booth conversations, we frequently heard that current access management practices are mostly manual at their organizations. The problem with manual AM is that human errors can end up costing more than a dent in company funds. Companies also run the risk of leaving open orphan and rogue accounts. This leaves a company's data vulnerable to compromise and can be quite costly to rectify, should a breach occur.
Automation is not a Gamble when Deployed Right
PROS is a perfect example of how automated AM supports authorized users throughout their identity lifecycle without compromising security. During his presentation, Linder outlined how RapidIdentity helped PROS update their AM processes from manual to automated.
Linder recounted how, before implementing RapidIdentity, PROS leveraged existing workflow tools and was using a simple approval and reporting process as a temporary solution. He stated that granting access was a "back and forth process" that included requestors sending an email that was received by a wide array of approvers. They didn't have a targeted process in place, so approvers would end up creating email rules to filter approval emails into a folder where the requests often went ignored.
Revoking access also used to be a manual process where representatives had to pull quarterly reports to remove access. This meant removal of permissions was not guaranteed to occur based on user lifecycle. Linder explained that prior to RapidIdentity, the time spent keeping up with access management requests and revocations was costing the company thousands in soft costs every year.
Citing RapidIdentity's ability to offer a complete IAM solution, Linder discussed how PROS integrated our software into their existing Oracle database to automate access for users. With RapidIdentity, access is now granted automatically, versus the previous manual process that could take days. Notifications regarding revoked access are timely, and approval is filtered to targeted users within the organization.
Overall, this year's Gartner presentation was a huge success: with a packed crowd of over a hundred attendees, it was clear that challenges around automating access management really resonate with show attendees. We're glad we could shed some light on the topic in both our presentation with PROS and our in-booth conversations on the subject.
Looking Forward to Next Year
This year's Gartner Summit was a great opportunity for us to discuss what IAM can do and how painless it can be to integrate into an organization's existing processes. Manual access management can not only cost your organization time and money, but leave you at risk.
The packed auditorium with PROS taught us one major thing: we'll be back. We can't wait to come next year and help even more organizations streamline their AM strategies.
Did you miss us this year? Want to know where we'll be next? Check out our upcoming events here!