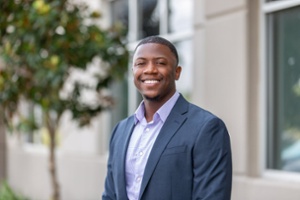 From 2009 to today, Identity Automation has provided the market's most complete Identity and Access Management (IAM) platform. Our hardworking Sales Development Representative (SDR) team makes sure that our solutions are top in prospective customer's minds.
It takes a coach mentality to lead the SDR department, and Identity Automation is lucky to have our Manager of Sales Development, Brandon Levine running the team. Bringing nearly a decade of sales experience to the role, Brandon makes it his business to understand our products and what our customers need. From selling solutions, to leading our inside sales team, he's a critical member of Identity Automation.
A Patriot Alumnus With a Knack for Knowing Customers' Needs
Brandon graduated from UT Tyler with a degree in Business Management. He started his career in the automotive rental industry as a trainee, quickly moving up the ranks to become an assistant manager. It was there that Brandon learned how to manage a team on both the technical and empathetic sides of leadership.
Following that, Brandon had a brief stint in the oil and gas industry in a service operations department. It was there that he learned how to adapt quickly to dynamic role changes within a company. When business is good, it's good, but the oil and gas industry is fickle. Brandon sought out a change of scenery (or rather, change of industry) and decided to transition into cybersecurity.
He started as an SDR at a computer and network security company and connected with his manager who became his mentor. His mentor provided a foundation of values and training framework that Brandon would later build into his role at Identity Automation. He was quickly promoted to a Sales Executive position where he gained a better understanding of the relationship between SDRs and Sales Executives.
From there, Brandon was looking for opportunities to grow his career at a new company within the cybersecurity industry, so after a few years, he made the move to Identity Automation.

Positivity Makes a Difference at Identity Automation
When Brandon started at Identity Automation, he came on as an Account Executive. From day one, he took initiative to build a strong pipeline in his territory. This included hosting lunch and learns and focusing on how K-12 education can leverage IAM within their school districts.
Brandon especially excelled at doing the legwork to get Identity Automation on the minds of our prospective customers. "I'm an advocate for Identity Automation, and I take pride in being a representative of our company," says Brandon. After hard work and accolades earned, it made sense for Identity Automation to enlist Brandon to build up and manage our SDR team.

Identity Automation's SDR team acts as company advocates and sets meetings to convert prospects into customers. "The SDR team's function is to generate leads, reach out to those leads, and gauge their interest around Identity Automation. We then evaluate those leads to qualify them as potential customers. From there, we are responsible for setting up meetings to transfer our leads to the sales team," says Brandon. "On my end, I train my team. I recruit, interview, and hire new SDRs."

Upon moving into the role, Brandon re-built the SDR team from the ground up, defining processes for the team to follow based on his previous experience. He then created a training program for his team and developed templates to make sure that each prospect receives consistent and personalized information about Identity Automation.
Brandon is an enthusiastic manager, and can often be seen in the middle of his team encouraging and coaching them. "I tell my team to stay positive. Being in sales comes with good and bad days, but being positive makes a difference, as well as a more cohesive team," says Brandon.

Doing His Part to Ensure Everyone is Contributing
On top of managing the SDR team, Brandon also works with our Director of Human Resources, Lauren South to recruit new employees for the SDR program. He has a hand in reaching out to local colleges and marketing open opportunities at Identity Automation.
Beyond our online presence, Brandon has helped build partnerships with the University of Houston and Sam Houston State University to target and interview potential intern and employee candidates. As a result of Brandon's diligence, Identity Automation attends career fairs and hosts information sessions on campus. We've been able to recruit multiple team members through these networking efforts, so it's safe to say that his hard work is paying off.

It's not enough for Brandon to build up his department; he also works hard to improve Identity Automation's culture. As a matter of fact, Brandon is a member of our Culture Club, which comprises employees from each department who come together in an ongoing push to improve company culture.
The Culture Club's efforts include monthly interoffice game days to bridge the gap between our offices and remote employees, company volunteer days, holiday potlucks and activities, and a company softball team, of which Brandon is the coach. Brandon is always an advocate for our collaborative environment. "You can talk to anyone at Identity Automation, and it's clear that your voice is heard," says Brandon, "The future is really bright here."

Brandon is a friend to every member of the Identity Automation team and makes it his business to ensure that everyone he runs into is having a good day, even going so far as offering sodas to the team on his way to fuel his Dr. Pepper habit. Outside the office, Brandon is a family man and Texas barbecue addict (he even makes his own barbecue rub).
It's heartening to have such a fired-up advocate and earnest voices like Brandon's will perpetuate Identity Automation's continued expansion as one of the top IAM providers in the IT security industry.