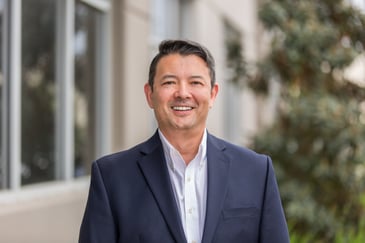 Dave Carlson, our Director of Channel Sales, is eight months into his tenure here at Identity Automation. Already, he's immersed himself in several projects, which will directly impact the future of the company.

Coming to us with substantial experience in business development and global alliances, Dave has spent his career utilizing an impressive array of technical skills, a talent for sales and relationship building, and an ability to resolve difficult client situations and large technical problems.
Even more impressive? He has had no formal training in his field—he's completely self-taught.
Now working for Identity Automation, Dave is responsible for all aspects of our indirect sales partner programs, including managing the company's global partner and alliance programs for systems integrators, value-added resellers, consultancies, and technology ecosystem partnerships.
This type of challenge is not new to him, though.
The Business of Growing a Business
Originally from Texas, Dave was working as a bartender in 1985, when one of his regular customers offered him a sales position at Microproducts Unlimited. As the first hire for the small start-up, Dave helped Microproducts Unlimited grow to become a large company, bringing in up to 60% of their revenue, and the company was eventually purchased by EDS.
He has been in sales and the technology industry ever since.

Dave has worked in leadership roles for several global corporations, including Senior Manager of Business Development and Alliances for Compaq, Senior Director of Global Strategic Partner Sales for Symantec, and Director of WorldWide Alliances, OEM, and Channels at Oracle. Through these positions, he built a reputation for strong sales skills and advanced technical knowledge, which made him an undisputed asset to each company he joined.

In each role, Dave has proven he has a unique ability to create prosperous business opportunities from any starting point.

This is just what happened at Compaq in 1989. The company was having issues finding someone—internally or externally—with the technical skills required to install their training labs. Dave, who was at the time setting up Novell networks and replacing mainframes for large oil and gas companies, appeared on Compaq's radar after he was referred to them by several of Dave's banking and oil & gas customers. After thoroughly impressing Compaq with the first lab setup, he was quickly hired on permanently as their Senior Corporate Technical Instructor.

In 2003, Dave again found himself being asked to come into a difficult situation and produce immediate results. His new employer, BindView, was having trouble maintaining its relationship with one of their largest global systems integrator partners, CSC, putting associated business in jeopardy.
Not only was Dave able to come in and repair the relationship with this partner, but he built BindView's channel program from scratch, bringing in $5 million the first year and $12 million in first year channels revenue. After BindView was acquired by Symantec, he continued to manage this partner account, growing the revenue from this relationship from $36 million to $68 million in two years. Dave still looks at this success as one of the highlights of his career.
Channeling Success at Identity Automation
It was that drive that brought Dave to Identity Automation in January 2018.

"I wanted to develop a partner and alliance program that would be purpose-built to address the right partners with the right programs that really address how they sell and go to market."

And he is doing just that. Currently, Dave is focused on three main objectives. First, he is working on developing and improving our channel program. He is also onboarding a small number of enterprise-class partners specializing in cybersecurity, which will produce immediate results in 2018 and build a portion of the 2019 enterprise pipeline.

His top priority, however, is partner enablement. Dave wants to scale our partners through education on our solutions and believes this is the number one method for producing growth.

Dave's ability to look at the big picture has been instrumental to his career success, and he's now applying this to Identity Automation. He's already looking into our future, with plans to develop a Technology Partner Program and a Managed Service Provider Program.

"I see an extremely bright future for Identity Automation. We have incredible technology that I believe is one or two generations ahead of many of our competitors. I'm not sure if everyone realizes this. It's something special."
Life on the Outside
It is more than the product and work that keep Dave motivated.

"The spirit of teamwork is very strong at Identity Automation, and I think that management does a very good job of ensuring that there is a good work-life balance," he states. "This is something you will not find in most large companies or aggressive startups."

That work-life balance comes in handy with the busy life Dave leads outside of the office. A true Texan, Dave enjoys long-range precision shooting and frequenting the gun range. He's also an enthusiastic sports fan supporting Houston and Texas sports teams, including the Texans, Astros, Rockets, and the University of Texas Longhorns.

Dave has been married for over 32 years and has three grown sons. His family has been by his side through his career and many triumphs—from Microproducts Unlimited in the mid-80s, all the way to Identity Automation in the present. And, like many at Identity Automation, he is an avid dog lover. Dave and his wife have a Staffordshire Bull Terrier and Pembroke Welsh Corgi and are diligent about donating to dog rescues and shelters on a regular basis.

"I don't mind admitting that I generally like dogs more than most people I know...with the exception of the great folks who work at Identity Automation!"

Right back at you, Dave!