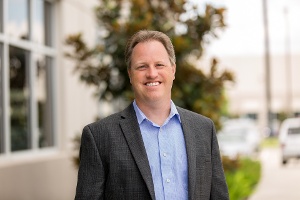 At Identity Automation, we work hard every day to provide best-in-class solutions that are configurable, flexible, and scalable. Working to coach our employees and customers on our products and services is our Director of Solutions Engineering, Greg Pearson.
Today, Greg leads technical efforts to ensure that our software meets the needs of our prospective customers. "What I do now is look at what the market is asking for, and determine if our product can meet their needs. If not, I go to the product team to let them know what we need to enhance our products," says Greg.
A seasoned veteran at Identity Automation, Greg has been with Identity Automation for more than a decade, holding a number of roles within our company. From his time as a consultant for Identity Automation to today, it's safe to say that he has the skills to help everyone understand and use our products to their highest potential.
The Path of Opportunities that Led to Identity Automation
Greg earned his Bachelor's of Business Administration in the heart of Bearkat Nation at Sam Houston State University. He later earned his Master's of Business Administration from Texas A&M.
After graduating from Sam Houston, he came across an opportunity with a small company in the oil distribution and retail operations industry that needed help writing their statement for taking the company public. Though hired to write, more and more, Greg found himself helping his coworkers to set up their computers. Greg took the time to teach, and eventually, he was promoted to the role of systems analyst for their new Houston office.
From there, Greg says an opportunity presented itself to work for AIG, helping with their computer training. Through networking at AIG, Greg found a job at the Minute Maid Company, a place where he learned how to work with technology in a large corporation from the back-end, focusing on platform management.
After a stint managing data centers for the Americas at a telecommunications company, Greg went to work for RediClinic, a Houston healthcare organization. It was there that he was able to run the IT department at an executive level as they were actively deploying clinics. Seeking out something new, Greg connected with the Identity Automation leadership team and started as a consultant.
Upward and Onward Growth at Identity Automation
When Greg started at Identity Automation, we were a consulting firm with a total of seven team members. Greg consulted on services in the identity and access management space, including design and implementations of solutions. After noting the limitations of legacy IAM systems firsthand, Identity Automation decided to transition from a consulting firm to a software company in 2009.
In response to the limitations of legacy IAM solutions—long delays, complicated customization, and product capability gaps— we sought to create a better, modern IAM solution. "Our products were born out of the experience we gained as a consulting company. Taking that experience, we made something that made the most sense and covered the most functionality," says Greg, explaining "We have products that are configurable to integrate into our customers' existing programs, flexible to meet organization's needs and processes, and scalable in that we can put a product in an organization that has 50 or 5 million users. Our product can grow as the company grows."
And so, because of our new role in the IAM industry, Greg's job as a consultant morphed into a professional services role, along with leading a growing team of professional services engineers. During his three years in this role, Greg directed our team of Service Engineers and consultants specializing in designing, developing, implementing, configuring, and supporting IAM solutions for customers using our software products.
"I did a lot of initial testing of our products before we rolled out our software to the public, because there was no QA group at the time," says Greg. He tested what the engineers were creating and did comparisons to existing market products. Greg also created a lot of the processes around solutions engineering Identity Automation has in place today. "I would say that I felt like I had a lot of initial input into our products because I spent a lot of time trying to think through how we would position our products compared to those we were implementing," explains Greg.
Today as Director of Solutions Engineering, Greg is the point of contact for our customers, ensuring that our products meet the needs of their organization. On any given day, you can find Greg coaching employees and visiting with prospective and existing customers to learn more about helping them to be more secure through the use of our products. This means understanding use cases and how products can be applied to prospect needs, as well as helping the sales organization put together the best solutions for our prospects.
Other functions of Greg's department include assisting with partner enablement as we bring them on and helping them to understand how we position our software. The Solutions Engineering team also executes Proof of Concepts for our prospective customers, so they are able to see what our solutions can do in an interactive format. Additionally, Greg's team works with Sales Enablement to make sure our sales team has the technical research and data to facilitate understanding of our products.
Along with everything he does in his department, Greg assists with marketing by attending trade shows, marketing events, hosting webinars, and helping to aggregate content. One such project was building out the webinar content for our Maturity Model series, in which we explain the tenets of our Identity and Access Management (IAM) Capability Maturity Model in order to help organizations understand where they stand in terms of IAM functionality and how they can advance these capabilities. From this, Greg developed our maturity assessment tool, which allows organizations to quickly identify their current IAM maturity, while providing insight into next steps.
"You're Never Bored at Identity Automation"
It's clear that Greg takes pride in Identity Automation and our team. "As a company, our culture is that everyone jumps in and solves problems," says Greg. "As we've grown, it's a constant that everyone wants to help."
He further explains, "Identity Automation fosters a high-learning environment, as we have a lot of people that are willing to take the time to work with coworkers to educate and inform them of the products."
Greg notes that you're never bored at Identity Automation and is a passionate advocate for our software and our company. When asked about how he feels about working for Identity Automation, he says, "I never wanted a job where I did the same thing every day, and so far, I've succeeded."
Success is certainly a labor of dedication, and we're happy to have Greg spearheading Identity Automation's collaborative approach as our Director of Solutions Engineering. Making sure that our product is best-in-class is a top priority and, like Greg, we're focused on providing solutions that meet our customers' complete identity and access management needs.