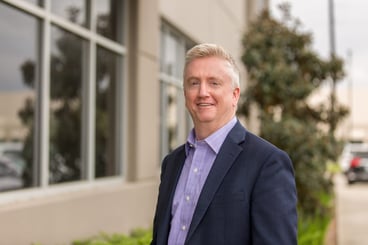 Our Meet Our Team blog series is shining its next spotlight on Joseph Kelly, Vice President of Delivery. He joined the team in February 2018 and calls himself an accidental project manager who fell into a career he loves by chance—a path which eventually led him to Identity Automation.
Having spent his career in customer-facing, implementation, and account management roles, he brings nearly two decades of customer service, account management, and project management experience to Identity Automation, where he oversees our support, professional services, customer success, and project delivery teams.
Joseph has been integral in moving Identity Automation towards optimal service from our customer support and customer success departments and more efficient and seamless implementations.
His story starts in 2001 at a small startup software company.
A Look Back
Joseph kicked off his career as the first employee of SCO Logistics, where he was responsible for client relationship management. His journey into project management started by chance, with him sitting in on project calls run by his CEO. Eventually, Joseph offered to take them over completely, and suddenly, he was leading global, cross-functional teams in managing client software implementations—all while in his first position within the industry.
From then onward, Joseph built his career around project, operations, relationship, logistics management, and establishing project management offices (PMOs).
When asked about his achievements, Joseph recounts three major milestones in his career. First, he built PMOs for three separate companies from the ground up—all of which are still functioning today. Second, during his time in the oil and gas industry, he ran a $300 million supply chain program for a private company.
Lastly, as the Director of the PMO at Argo Turboserve Corporation, Joseph conducted an implementation of a $35 million inventory supply chain program in 60 days—an unheard of time-frame. He then managed the program after implementation was complete, increasing efficiency on the assembly floor by 40 percent. He considers this his proudest accomplishment to date.
Delivering for Identity Automation
In early 2018, Joseph was searching for his next opportunity, which was conveniently around the time Identity Automation was developing the Delivery function and in search of its first Vice President of Delivery.
After having shifted into the oil and gas industry for a portion of his career, Joseph jumped at the opportunity to return to the software industry. Joseph says he knew Identity Automation was a perfect fit from the start. He explains by recounting a conversation between he and his wife in which she asked why he was chasing this opportunity so hard.
His answer to her was direct: "It's what I do. The role here is the culmination of my career. I have performed and led every piece of what is expected out of this role." Project management, account management, portfolio management, operations management, and customer relationships—these pieces converged into the perfect role for Joseph at Identity Automation.
The main challenge presented to Joseph when he was hired? Improve delivery. And one area of particular focus was identity and access management (IAM) implementations. In the software industry, it is crucial to implement a solution as quickly and efficiently as possible. If not, the software company risks the customer never implementing or effectively utilizing their product—a fact of which Joseph was keenly aware.
Since Joseph joined Identity Automation, his focus on this issue decreased the project delivery backlog by 99 percent, increased project on time delivery by 95 percent, and streamlined numerous processes to grow Identity Automation into a more mature services and delivery organization. However, improvement is an ongoing goal. "I am constantly looking at processes for evolution and change to make us a better and faster stronger company where we can," Joseph explains.
Recently, Joseph's focus has been on managing the demands of the education season. RapidIdentity can be implemented in a school district within 2-3 months. However, school districts inevitably want this done before the start of the school year each summer, and it can be a mad dash! This quickly becomes one of the busiest times of the year for Joseph and his team where they must pull directly from their project management experience to ensure delivery of all promises.
On top of this, Identity Automation acquired HealthCast, Inc. in summer 2018. Suddenly Joseph and his team had the added responsibility of supporting, maintaining, and delighting this large influx of new customers—no small task!
But this is, after all, what Joseph feels most at home doing. With his entire career centered around the customer and days filled with customer interaction, he is firm on the fact that it is all about building a relationship based on trust. He says, "Most customers just need to be heard. It's really simple. They're coming to us for help, so let's remember that and help them."
We couldn't agree more, and we're looking forward to continuing our role as a trusted partner to our customers in 2019!