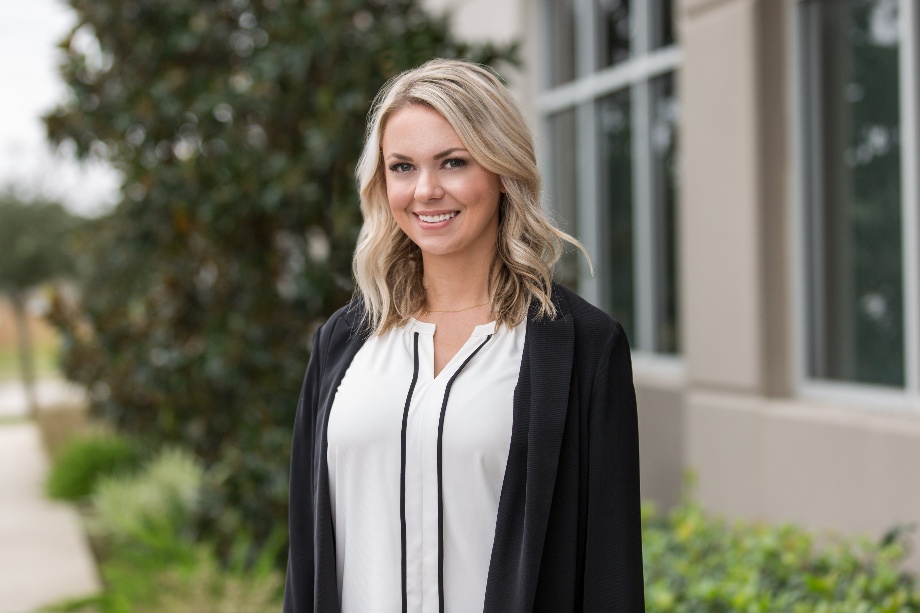 Identity Automation is committed to acquiring and maintaining relationships with our outstanding team. We set high expectations, so it's only natural that we have an exceptional director spearheading our HR department.
And we do— meet our Director of HR, Lauren South!
Bringing Lauren onto our team was no small move, but rather, part of a conscious effort to invest more time and resources into the quality of life of our employees, and the return has been tangible. In the year she's been a part of the Identity Automation team, Lauren has tackled projects ranging from a new employee training program to the enrichment of our organizational culture. Her dedication to making enhancements in these areas has been received with positivity across the organization.
Born and raised a Texan, Lauren is a Fort Worth native who attended Texas State University. After graduating with her degree in Communications Studies and minors in Business Administration and Mass Communications, she went on to start an impressive and successful career in Human Resources— one that would eventually lead her to Identity Automation.
Foundations of a Framework for Success
Having gotten her feet wet with employee relations at Venado Oil & Gas, Lauren's first major step into HR was during her time at CLS Partners. As Operations Manager, Lauren focused on a multitude of human resource initiatives, including employee onboarding, facilities management, policy management, compliance, and more.
As a result of her efforts, CLS Partners promoted Lauren to Director of Operations. As Director of Operations, Lauren took on more strategic projects and gained extensive experience in policy management, benefits administration, recruiting, terminations, and the full employee lifecycle.
While in this role, Lauren also created a comprehensive new hire orientation program that allowed new employees to get one-on-one time with each department head and implemented an employee recognition program called You Earned It. In addition, Lauren started recruiting for the company's open positions, which subsequently led to her revitalizing the company's onboarding and resource allocation processes.
However, Lauren's most significant project as Director of Operations was the creation of a Compensation Philosophy. This included thoroughly analyzing compensation plans across the company, revamping performance management processes, making a complete examination of where CLS Partners stood in the market in regards to talent and compensation, and finally, formulating a concrete plan for how to make improvements over time. The ultimate goal of this project was to make CLS Partners one of the best places to work—a project we are proud to say she's taken up at Identity Automation as well.
Lauren's successes thoroughly impressed the leadership team at Identity Automation, and when presented with the full scale of her accomplishments in previous roles, we were eager for her to join us and take over the reins of our own HR functions.
Building a Culture of Success at Identity Automation
Once Lauren came to Identity Automation, she wasted no time executing policies that she'd seen success with previously. Her initiatives included forming Identity Automation's Culture Club, creating an adapted Compensation Philosophy, and fostering a "we can keep improving" attitude.
Lauren's specialty is building a community feel in the workplace, and it is evident in Identity Automation's Culture Club. Employees from every department volunteer as ambassadors that provide feedback to Lauren that, in turn, improves our culture and inclusivity. In its first year, the Culture Club has taken off. Thanks to the Culture Club's efforts, Identity Automation has implemented a number of office improvements, such as standing desks, periodically scheduled food trucks at lunchtime, a valet car wash offering, and our very own softball team. To bridge the gap between our Texas, Idaho, and remote employees, the team also enjoys monthly interoffice game days where all employees can play together, regardless of location.
Another ongoing priority of Lauren's is finding and retaining employees. From putting together "new hire kits," designed to make new employees feel right at home, to implementing a new HR platform that has streamlined recruiting efforts, Lauren has taken a number of steps in the right direction!
Lauren has also put new employee onboarding training in place that includes dedicated time with the heads of each department. During this time, new employees learn the ins and outs of each department, thus learning a bit more about how the overall company operates. By the time new hires have completed our training courses, they have a firm grasp on the departmental functions at Identity Automation.
Lauren has also brought an adapted version of the Compensation Philosophy she developed in her previous role, to Identity Automation. The Compensation Philosophy ensures employees are given a fair and competitive wage based on aggregated data that she meticulously researches. The goal of this is to empower employees to improve their performance based on clearly outlined goals that are tailored to an employee's specific role and skill level. Taking things a step further, Lauren is continuing to improve the Compensation Philosophy by outlining clear career pathing that bolsters Identity Automation's "promote from within" attitude.
According to Lauren, there are many other projects in the works, but above all, the mission is to stay competitive in the tech industry by hiring the right people, at the right time, in the right position, as well as by offering meaningful benefits to employees. Identity Automation is proud of our employees, and it has been essential to have someone as passionate as Lauren on the team to promote our values.
Teamwork Makes the Dream Work

"My ultimate goal," Lauren says, "is that everyone loves working here so much, that the second we have a job posting, everyone reaches out to their network saying 'you have to come work here!'"
And it appears to be working! Identity Automation is continuing to grow and hire enthusiastic teammates that practice our vision of an inclusive and positive workplace. With recently revamped recruiting, hiring, and onboarding processes in place, the experience for new employees is more seamless than ever before.
Above all, Lauren sees herself as an advocate for the employee who is responsible for leading the efforts to maintain a positive work experience. Though not a task that can be completed by one person alone, she is taking charge and energizing both management and employees across departments to work together and achieve our shared mission of fostering an environment where people want to work.