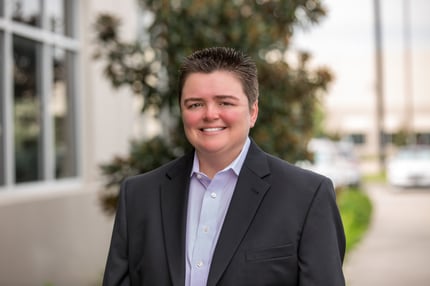 From managing global IT operations and large-scale projects to successfully revamping teams and systems for organizations with struggling IT departments, Melissa Bayless brings an extensive array of IT experience to Identity Automation. And we're glad to have her on the team!
Only a year into her tenure as Manager of Support Engineering, Melissa has already made a significant impact as she leads Identity Automation's internal and external support efforts.
Here's her story.
IT Around the World
Coming from a different world, Melissa spent most of her career prior to Identity Automation working in oil and gas. At the age of 20, she started her career at Marathon Oil as a help desk associate and worked her way up to becoming the Help Desk Manager before transitioning to an International Business Analyst role where she traveled the world, tackling long-term IT projects for Marathon.
In Gabon, Africa, Melissa worked as the only Marathon Oil IT employee in the country and was solely responsible for managing the company's servers, telecoms, financial system, applications, help desk, and internal customers (which numbered around 200).
Moving on to Siberia, she spent six months switching domains on the company's Russian servers and computers. All of this was complicated by the fact that her translator backed out at the last minute, leaving her unable to communicate with anyone on-site as she completed the project.
Her last stop abroad was Equatorial Guinea, where once again, she was again the only Marathon Oil IT employee in the country, working to build a liquified natural gas plant—all of this while completing both her bachelor's and master's degrees in Business.
After finishing her last project in 2006, Melissa returned to the United States and was quickly recruited by Champion Technologies to rebuild their entire IT infrastructure after the company had experienced a series of major setbacks. There, Melissa built an IT department which rivaled that of much larger corporations by developing a new team, implementing new systems, and re-engaging internal stakeholders. By the time she left, Melissa was managing over 150 people, across multiple countries.
A New Challenge, But Not Her First Rodeo
In Spring of 2017, Melissa was volunteering on the Information Services Committee for the Houston Rodeo when she was approached by fellow committee member and Identity Automation Principal Sales Consultant, Greg Pearson, about the Manager of Support Engineering role. With her extensive experience managing large-scale IT departments and aptitude for creating standard processes and systems, she was a perfect fit and joined our team that August.
Identity Automation has always enjoyed a reputation for excellent customer service, but when Melissa started, the company was entering a stage of extensive growth.
"When Identity Automation was smaller, the support techs knew every single customer and they know everything about every customer's environment," explains Melissa. "However, this isn't possible as a company continues to grow. You have to find other ways to deliver that same level of excellent support."
Not willing to sacrifice this reputation of top level customer service, Identity Automation looked to Melissa to the build systems, processes, and a team that would enable us to keep the personalized attention for the customers on a larger scale.
Although Melissa was new to the internet security industry, she had plenty of experience building the processes, procedures, and standardization to support a large workload—that was what she would use help Identity Automation scale out.
Melissa hit the ground running in her new role, working to standardize and develop documentation for new processes, beef up support staff training curriculum, implement new tools and systems to streamline the support team's workflow, and find new ways of collecting, housing, and sharing customer information between support employees.
While she states the job isn't finished yet, the company is in a much better place than before she started. Through her efforts, we recently rolled out a completely redesigned Support Portal that offers customers a user-friendly and easy way to interact with our software support staff. And since Identity Automation's acquisition of HealthCast, Inc. last month, she has been hard at work integrating the two support teams into one—which is no small task.
The Perfect Balance
When asked about her thoughts on the life and culture of Identity Automation, Melissa recalls the reaction her wife had shortly after she started. "I came home, and she looked at me and said 'You know what? You are an absolutely different person. I can tell that this job is the right job for you, and this is the right place because you are so much happier.'"
Outside of the office, Melissa leads a busy life. She is an avid dog lover who owns three chihuahuas and three pugs; volunteers on the Rodeo committee that brought her and Identity Automation together; recently became part-owner of a local animal boarding business, Paws Pets Resort; and enjoys her hobbies, like the impressive Lego collection displayed in her office. Melissa and her wife married in November 2015, and the two have a full house of family and pets. She boasts that Identity Automation's culture gives her the ability to disconnect when at home.
"I love the people I work for. I love the people I work with. For the first time ever, there's a work/life balance. If I work in the evenings, it's because I want to work in the evenings, not because I have to," she says. "I couldn't imagine working anywhere else."