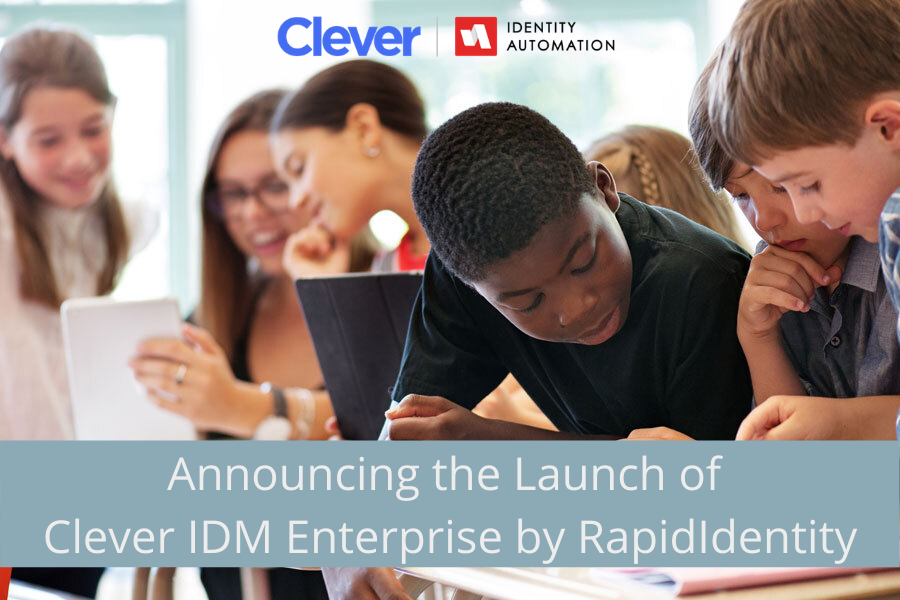 I am thrilled to announce that Identity Automation has partnered with Clever, the most widely used digital learning platform in K-12 schools nationwide, to launch: Clever Identity Management (IDM) Enterprise by RapidIdentity.
Clever IDM Enterprise is a comprehensive, enterprise-level identity management solution with features like automatic account provisioning, group management, delegated administration and end user self-service options. This new offering enables school districts to automatically provision core identity systems, such as Active Directory, to ensure the entire education community can access all their digital resources on their first, and every, day of school— allowing more time for teaching and learning.
Our best-in-class integration creates the most comprehensive, secure digital learning and identity management solution on the market, which can be implemented in days, not months. Best of all, this solution will be available at a much lower cost than alternatives on the market today.
Clever & Identity Automation: Better Together
You may be asking, why partner now? To put it simply, we have found a like-minded, mission-driven partner in Clever. At Identity Automation, we believe everyone should have an equal and safe opportunity to learn. Clever's mission aligns with ours, and together, can empower students and educators with a richer, more intuitive learning experience.
Both Identity Automation and Clever recognize that districts, educators, and students have experienced a leap-change in technology adoption and usage this year, and it's now embedded in all aspects of education.
Districts still face a complex problem that threatens the smooth functioning of learning and IT systems—creating and maintaining user information in core identity systems. Often, technology teams rely on manual processes which are difficult to scale and can jeopardize the data security of their digital learning environment. As student, teacher and staff information is updated constantly, errors can arise at any time, preventing students and staff from accessing the applications they need daily.
As the digital footprint of schools continues to grow, so does the proverbial target on their backs. Since the 2020/2021 school year began, the FBI has advised of increased threats specifically to K-12 schools. Malicious actors recognize that IT is now mission critical for districts, which is why school districts have seen an increase in all types of attacks—phishing, DDoS, and ransomware—in particular.
We know that together we can do more to help districts seamlessly and securely connect their technology systems and learning resources, so that the entire education community can safely access and engage in digital learning.
What is Clever Enterprise IDM?
At its core, Clever IDM Enterprise offers RapidIdentity's robust identity management capabilities, integrated with Clever. Clever IDM Enterprise addresses K-12 education's critical interoperability and authentication challenges by providing school districts with automated account creation and management for Active Directory, Microsoft 365, and G Suite.
With features including automatic account provisioning, group management, delegated administration, and end user self-service options, Clever IDM Enterprise helps even the largest school districts easily move to a more automated, efficient, and secure tech stack.
Benefits to Your K-12 Organization
By partnering with Clever, together we have developed a comprehensive, enterprise-level identity management solution for K-12 schools that is affordable and can be implemented in days.
Clever IDM Enterprise delivers the following benefits to K-12 districts:
Automation of repetitive manual processes: This new solution eliminates the delays and errors in account creation that are inevitable with manual processes, giving students faster access to the resources they need and reducing demands on overtaxed IT departments.
Data security and privacy: Clever IDM Enterprise helps districts protect student data and mitigate the risk of a data breach by automatically enforcing security policies across each application, protecting sensitive data, and closing security gaps from old user credentials and access rights.
Set up takes days – not months: The implementation of technology systems can be time-consuming and costly. For school districts who are rostered with Clever, onboarding Clever IDM Enterprise is quick and easy.
Fraction of the cost of other identity management solutions in the market: Because the Clever digital learning platform (including single sign-on, rostering, messaging, and analytics) is always free for districts, they have the option to add Clever IDM Enterprise in order to cover all of their identity management needs for a much lower price than that of other solutions.
At Clever and Identity Automation, we believe safe and secure technology has the power to unlock new ways for all students to learn, making education more equitable and improving educational outcomes for all. Through this new partnership, we look forward to helping more districts make technology work for them, not against— enabling them to focus their time and attention on what matters most: students.
Clever IDM Enterprise will be available for implementation in June. To learn more about the new offering, please visit www.cleveridmenterprise.com.