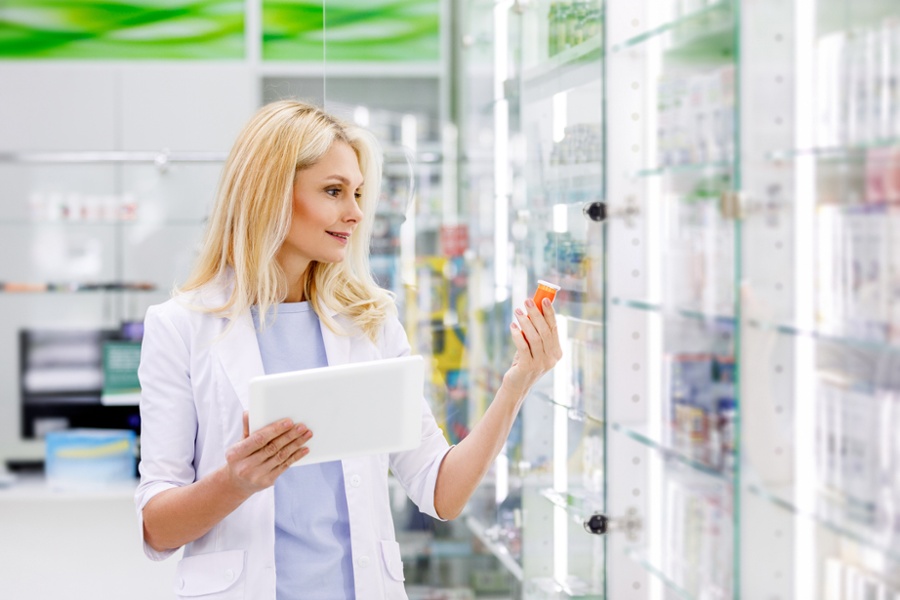 Over the past two decades, the Opioid Epidemic has topped an alarming level of news headlines. In response to this, effective June 1, 2010, the Electronic Prescriptions for Controlled Substances (EPCS) was passed by the Drug Enforcement Agency (DEA) as an alternative to hard copy prescriptions.
So what is EPCS? And what benefits can e-prescribing offer your organization? Let's take a look at what healthcare providers EPCS applies to and the difference an EPCS solution makes to healthcare organizations.
What is EPCS?
EPCS is the practice of using electronic prescriptions (e-prescriptions) for a controlled substance instead of paper scripts. The regulation permits pharmacies to electronically receive, dispense, and archive prescriptions sent to them by the prescriber through a certified electronic system.
The DEA Title 21 Electronic Code of Federal Regulations (eCFR) provides guidance on these regulations. Title 21 puts the responsibility of ensuring the safety of EPCS on the provider. To be able to prescribe controlled substances, the provider must register with the DEA and get a DEA number. Furthermore, Title 21 requires prescribers to use an Electronic Medical Record (EMR) system or prescribing technology that's certified by a third-party auditor or a certification body.
EPCS creates new "identity proofing" responsibilities for EMR vendors, providers, and prescribers by requiring two-factor authentication (2FA), more robust audit trails, and strict auditing procedures. Identity proofing is the way organizations prove a person is who they say they are. Part 1311 of Title 21, Requirements for Electronic Orders and Prescriptions, goes into the specifics of these requirements in detail. The goal of these standards is to increase security and patient safety by ensuring controlled substances are properly created, signed, and refilled.
To Whom Does EPCS Apply?
While it is true that EPCS is not mandated by every state today, some states are taking the initiative or are taking steps to enact e-prescribing laws. It's important to note that not every state has the exact same set of regulations that fall under the DEA's definitions of EPCS compliance.
The commonality between every state is regulating drug schedules, which are defined as drugs, substances, and certain chemicals used to make drugs classified into five distinct categories or schedules depending upon the drug's acceptable medical use and the drug's abuse or dependence potential. Regulations and punitive action for each schedule of drugs vary from state to state.
The states that are currently mandating EPCS are:
More states have adopted EPCS into their legislation, and laws will be fully implemented in the future. These include:
That's 28 states that already have EPCS legislation.
Furthermore, another 6 states have pending legislation, which means they have introduced acts and proposals to their respective legislative decision makers. This list includes:
Maryland
Michigan
Montana
Nebraska
New Jersey
West Virginia
Beyond these 34 states, nearly all of the states that have not implemented EPCS mandates are projected to have rules in place by 2022. While we recommend looking into your state legislation for more specific information, it's clear that all states are moving toward mandating EPCS.
Why Should Your Organization Implement E-Prescribing Workflows?
With 34 states (and counting) embracing EPCS into their legislation, it makes sense that other states will follow suit. Besides the monetary incentives, EPCS is the natural next step to integrating modern-day technology processes that enhance security and efficiency into daily healthcare practices.
But what are your organization's day-to-day benefits of implementing e-prescribing workflows?
Keeping Prescriptions Secure
We mentioned earlier the improvement of prescription security, and it's important to restate. Using electronic prescribing eliminates the risk of hand-written prescriptions being stolen, altered, or forged by sending electronic orders directly to pharmacies. EPCS has changed how doctors prescribe and dispense controlled substances. By utilizing e-prescribing, controlled substances go directly from the hands of the prescriber to the pharmacy, allowing lower instances of script tampering.
Enhancing Clinician Productivity
E-prescribing workflows increase clinician productivity. Clinicians are able to instantly view a patient's medication history and don't have to manually reconcile medication lists or commit clinical information to memory, such as drug interactions. With EPCS, physicians can view up-to-date information regarding a patient's history, medication, dosages, allergies, etc. Clinicians no longer have to scan a paper health inventory completed by a patient that may not be accurate, up-to-date, or even legible.
Reducing Prescription Errors
On a more comical and nevertheless necessary note: Doctors are notorious for sloppy handwriting. Even with perfect handwriting, dosages can be mistaken. According to the FDA, more than 95,000 prescription drug errors have occurred since 2000, mainly due to mistakes when reading a handwritten prescription and dispensing a similar-sounding, but different drug. Brintellix, for example, is a brand name drug used to treat depression, while Brillinta is a brand name drug that treats acute coronary syndrome.
Providing a Better Patient Experience
Leveraging e-prescribing means faster prescription filling. Prescription orders are sent directly to a patient's pharmacy of choice, making the experience quicker and more convenient for patients. This means a better patient experience, and a better patient experience means more patients choose your organization as their go-to provider.
Ensuring Accurate Dosages
Many drugs are available in multiple strengths or forms. E-Prescribing removes the guesswork by prompting prescribers to completely fill out the dose, route, strength, and frequency for a prescription and providing drop-down lists of the most common medication information.
Tracking Patients' Filling Practices
Once a physician gives a patient a handwritten prescription, there is no effective way to track whether the prescription was filled. E-Prescribing allows physicians to verify whether patients fill prescriptions. Physicians also gain insight into the frequency with which patients are filling prescriptions for controlled substances, making it easier to spot potential drug abuse. Furthermore, physicians can track how many controlled substance prescriptions a patient has received, reducing the likelihood of over-prescribing or doctor shopping. Additionally, it is easier for states to track this data across multiple pharmacies. In New York, for example, most prescribers are required to consult the state's prescription monitoring program (PMP) registry when writing prescriptions for Schedule II, III, and IV controlled substances.
EPCS: The Time is Now
EPCS is not going away. More and more healthcare providers are choosing to adopt EPCS to stay in compliance and improve their organization's existing processes. It makes sense to keep up with evolving technology and embrace e-prescribing, but what can your organization do to implement EPCS workflows, while remaining DEA compliant?
Keep an eye out for our next EPCS blog, which will illuminate what your organization can do to implement an EPCS solution that is DEA compliant, while improving productivity.