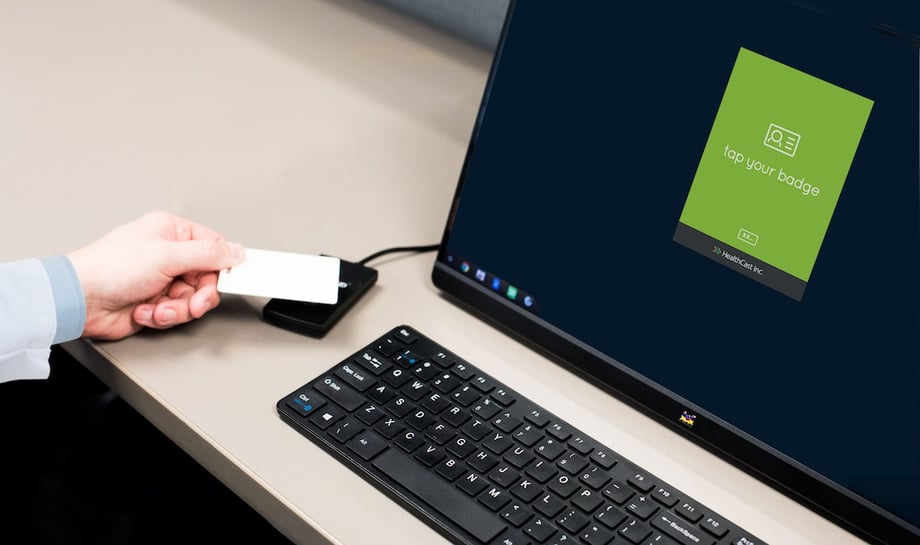 In busy hospital settings, clinicians move from room to room and department to department. They require multiple logins as they switch from one workstation to another and access multiple endpoint devices, such as thick and thin clients running Windows- or Linux-based operating systems.
In this setting, quick, efficient, and secure access to electronic medical records (EMRs) and other clinical apps is critical to providing patients with efficient quality care and avoiding liability concerns. To enable this access, the healthcare industry relies on proximity badge technology.
Though a number of proximity badge solutions are available, they don't all have the functionality to streamline clinician workflows across complex environments. Choosing the right solution makes all the difference.
Read on to learn about the features to look for in a proximity badge solution that will give your hospital the functionality it needs without requiring an overhaul of existing infrastructure.


Proximity Badge Technology in Healthcare
Proximity badges are commonly used to provide building and department access, but in healthcare, they also serve the critical purpose of enabling quick, efficient access to clinical workstations—both physical desktops and virtual desktop environments.
So, how do proximity badges work? Clinicians simply tap their badges on a proximity badge reader to "tap-in" on a workstation and access the system they need; a second "tap-out" locks or secures their session.
Proximity badge technology is crucial because it eliminates the need to manually and repeatedly enter passwords as clinicians access different workstations throughout the day. Automating the login and logout processes streamlines clinician workflows, enabling clinicians to see more patients as they seamlessly roam from room to room (and department to department).
Moreover, proximity badges strengthen desktop security and HIPAA compliance because clinicians are able to securely lock their sessions with the tap of a badge. This reduces the risk of a session being left unsecured and exposing patient data.


Why a Solution That Supports Complex Endpoint Environments Is a Must
There is a staggering variety of deployable hardware technology available to the healthcare industry—Windows desktops, HP thin clients, Dell Wyse thin clients, and Chrome devices are just a few. In addition, there are numerous physical endpoint devices that can provide access to Windows- and Linux-based virtual environments, such as Microsoft RDC, VMWare View, Citrix XenApp, and XenDesktop.
In order to balance the needs of the whole hospital and individual departments, it's not uncommon to see multiple types of endpoint devices deployed in a single infrastructure. Often, the decentralized nature of IT in clinical environments leads to departments determining their own technology needs. Furthermore, budget constraints can limit or force departments to deploy certain types of endpoint devices.
Consequently, it's important to select a proximity badge solution that supports heterogeneous computing environments. Such solutions allow clinicians to "roam" their sessions from one device type to another.
Choosing a proximity badge access solution that can't communicate seamlessly across different operating systems and end-user devices can lead to a number of complications, including:
Having to deploy multiple proximity badge access solutions that require separate management and maintenance to meet the needs of different departments
Limiting users to only being able to access their work on certain devices and/or in certain areas of the hospital
Increasing the complexity of an already complex infrastructure, thus increasing expenses and requiring more administrative resources to maintain


Key Features to Look for in a Proximity Badge Access Solution

Tap-Over Functionality
All proximity badge solutions offer tap-in and tap-out functionality, but best-in-class solutions also offer "tap-over" functionality, which allows a clinician to access his or her session over another clinician's active session. This feature simultaneously secures the previous user's session for access at a later time, while logging in the new user. Most proximity badge solutions don't offer tap-over functionality, so if you want to maximize clinician productivity and convenience, be sure to look for a solution that does.


Ability to Automatically Log Out Clinicians
While tap-out functionality simplifies the logout process, it still leaves room for human error. A busy clinician can easily overlook the tap-out step, leaving sensitive information exposed for anyone to access. Choosing a proximity badge solution that can be configured to automatically log out clinicians mitigates this risk. Such functionality supports user compliance with organizational policies to lock their session for data privacy (think HIPAA and PCI).


User Registration Without IT Assistance
With many proximity badge solutions, IT personnel have to spend time setting up user accounts. However, a best-in-class solution eliminates this step, allowing users to perform a one-time self-registration by simply tapping their badges and entering their Active Directory credentials. Users can begin using the solution immediately afterward. The benefits of this are twofold: 1) IT staff are removed from the process, freeing up their time to focus on more strategic priorities, and 2) new users don't have to wait for IT to complete registration, allowing them to get to work quicker.


Web-Based Administration Tools
Web-based administration tools give IT administrators the ability to manage proximity badge settings and run audit reports from virtually anywhere. Let's say a clinician is experiencing an issue with his or her proximity badge, and the IT administrator responsible for managing the clinician's access isn't on-site. The administrator can fix the issue remotely, instead of having to connect to a certain network to do so.
With web-based administration tools, IT administrators can view or change proximity badge settings. They are able to:
View whether a user has registered his or her badge
Delete, disable, and enable badge access
Determine what type of proximity badges are acceptable
Set how frequently users need to be prompted for their password
Determine whether or not users are required to use a PIN with their proximity badges


Option to Layer Proximity Badge Access with a PIN
Every login situation is different. In some healthcare settings, users may be accessing highly sensitive information, and additional security may be required. For example, adding a PIN to doctors' badges for added peace of mind, since they have higher levels of privileges. Choosing a solution that gives the option to layer proximity badge access with a PIN makes it easy to strengthen security.


Make Quick Access Across Complex Environments a Reality
Most healthcare organizations today consist of multi-device environments; therefore, the need to deploy a proximity badge access solution that supports multiple platforms, while also increasing clinician efficiency and security, has become critical.
Unlike our QwickAccess proximity badge solution, most other solutions on the market don't provide all the basic and advanced functionality needed to make a truly secure environment a reality. Instead, they require additional resources and complexity, and they deliver a less seamless, less streamlined experience.