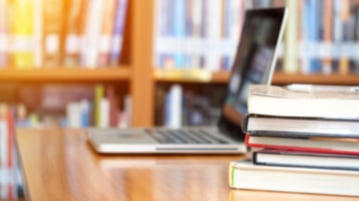 Bring-your-own-device (BYOD) policies are now a necessity for universities and colleges across the country. In Part 1 of this series, we covered the positives and negatives of BYOD, as well as the security implications of such policies. In this post, we'll go over how to easily implement secure BYOD using a modern identity and access management (IAM) platform.
Enabling Streamlined, Secure BYOD
Today, colleges and universities have an opportunity to benefit from BYOD, while also ensuring their IT departments don't become overburdened and their data and systems remain secure. However, a comprehensive and modern IAM platform is crucial to overcoming the common challenges created by BYOD.
Let's take a look at the ways in which IAM helps to facilitate an effective BYOD program:
Simplified Onboarding of Devices
Organizations that don't support BYOD often take this route because their IT teams lack the resources to onboard the influx of devices. However, IAM can automate most of the associated processes. IAM allows IT to delegate account creation to department heads or other relevant employees, and then the system automatically provisions access for students, faculty, and staff based on role-based access policies. Plus, accounts can be assigned at scale, so when hundreds or thousands of students—some of whom have multiple devices—arrive for a new semester, IT is not overburdened.
Provisioning for Users and Individual Devices
Truly effective lifecycle management requires 1:1 account relationships, in which every person and device has a unique identity. Using a modern IAM solution, a school can assign an identity to each user and each BYOD device and then link them through the platform.
This level of granular access control lets the school identify every user and every device trying to access the network. This ensures that each user gains access to the specific resources they need, when and where they need it, but cannot access anything else. And, with role-based and device-based provisioning, only authorized users with approved devices are able to access specific network resources. Depending on your school's policy, users could get one level of access with school devices and another with personal devices. This establishes that users are only able to access network resources with devices that comply with the relevant security policies.
For example, one New York school district allows students to bring laptops or tablets into the classroom, but not smartphones, because the former are more conducive for taking notes, diagramming, and interacting through Google Classroom. In that vein, you might only allow laptops and tablets in classrooms and labs, but open up access to smartphones and gaming consoles in dorm buildings.
Improved Security
IAM provides secure access control for a large number of diverse users and devices. Administrators can secure access based on the user and the device, so only those who are authorized can access the network. This granular control at the user and device level protects against unauthorized access to a school's resources.
IAM also makes it easy to apply multi-factor authentication (MFA) to personal devices, enforce MFA policies across users, and provide faculty and staff with MFA support for securing sensitive systems/data and privileged accounts. Additionally, the right platform should offer a variety of authentication options to best fit the needs of your university and users.
Finally, IAM automates deprovisioning of both users and devices, ensuring that former students and employees cannot continue to access campus systems and data after they have left the school.
Embracing BYOD
With every passing year, more colleges and universities embrace BYOD as a way to fuel new models of learning and differentiate themselves from the competition. If your campus hasn't already implemented a BYOD policy, you should be prepared for an influx of requests from students and faculty in the next few years. In reality, they are probably already using their own devices to access campus networks even if you don't currently have a BYOD policy in place. However, if you're like most organizations, you lack the IT resources to dedicate to time-consuming BYOD management.
For schools of all sizes, BYOD should be seamless and automatic, without requiring unnecessary time and effort for each user to get his or her devices up and running on the campus network. At the same time, IT must take steps to ensure a high degree of security, as well as visibility into user activity and access.
Modern IAM solutions help IT teams address the security and management challenges of implementing BYOD, even with limited staff resources. By leveraging an IAM solution, you can improve security and minimize risk, while also satisfying the needs of students, faculty, and staff for a seamless, user-friendly BYOD experience.