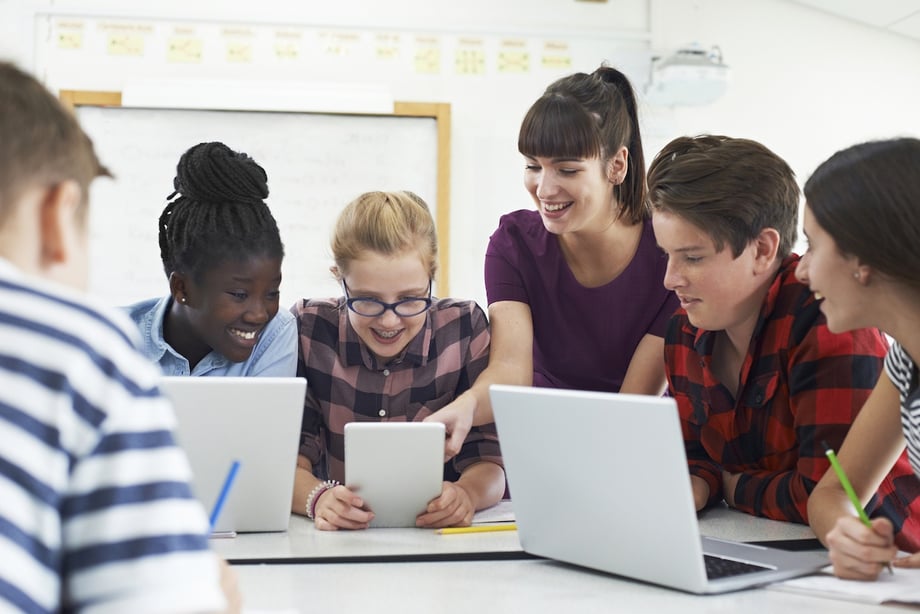 If you are thinking of moving to the cloud or have already started that transition, you're in good company. An impressive 80 percent of school districts are using cloud-based software. It's easy to see why.

The cloud offers many benefits for students, educators, and administrators. Students are able to learn technology skills, collaborate with other students, hold group discussions online, and get valuable information from outside experts.

Educators are able to use tools, like G-Suite and Office 365, that help them be more productive as instructors by increasing collaboration with students, distributing and tracking assignments, and providing real-time feedback.
School administrators can use cloud-based tools to bolster management efficiency, expand secure collaboration across the school district, and save time and money.
Yet, even with all these benefits, there are some significant hurdles to cloud migration.
The good news: the right technology can help you overcome these challenges. As your district starts or accelerates your move to the cloud, an identity and access management (IAM) solution can help you ensure that your migration goes smoothly.
Student Privacy and Data Security
We get it. As a school educator and administrator, your top priorities are student privacy and data security. Here's how IAM can help.
Modern IAM solutions are designed and implemented with close adherence to the latest regulatory and best practice security framework guidelines, in order to help your district meet compliance goals and ensure the integrity and security of student data. They also provide your IT staff with greater visibility into end-user activities and control over who can access institutional applications.
As a key component of your overall security program, IAM enables K-12 organizations to handle critical administration, authentication, authorization, and audit responsibilities, regardless of where your systems and data reside. With a robust IAM solution, a K-12 IT organization can simply and effectively manage the complete identity lifecycle for all users—students, teachers, parents, contractors, and administrators—in the cloud or on premises.
Plus, having an IAM platform in place before you migrate to the cloud ensures that proper security and access controls are already in place as new cloud-based services and applications are added.
Educator Resistance to Adopting Cloud-Based Tools
Another hurdle is overcoming educator skepticism about cloud-based apps. No doubt, some of that skepticism results from perceived complexity of and past negative experiences with cloud technologies. Teachers may jump to thoughts of students struggling to remember passwords, valuable classroom time lost dealing with login issues, or students sharing generic logins that aren't personalized to their resource needs.
Again, IAM can help. Having an IAM solution in place when adding cloud-based resources ensures both a smoother process and a more seamless, personalized end-user experience.
IAM provides the foundation to support connectivity across applications and services, particularly across a hybrid infrastructure. Among other things, this means you can quickly connect data in legacy systems to new cloud apps with modern IAM. In addition, when migrating infrastructures, IT won't have to worry if students and teachers still have access to all of their applications—they will.
IAM can also provide an easy-to-use single sign-on (SSO) experience for users. Students and teachers get one-click access to all of their applications from a single place, regardless of where they reside. Each student gets a personalized experience and only has to remember a single set of credentials, reducing password-related challenges.
Additionally, IAM solutions offer self-service capabilities that enable students to reset and manage their own passwords. These capabilities can also be delegated by IT to teachers. Not only does this greatly reduce help desk calls, but it means teachers don't have to spend valuable classroom time dealing with login issues.
Cost of Cloud Technology
Yet another hurdle is the perceived cost of cloud technology—buying cloud-enabled devices, deploying sufficient internet bandwidth, and paying for infrastructure and technical support. With tight education budgets, this can seem like a particularly high hurdle.
With a modern IAM solution in place, your school or district has the flexibility to grow and expand existing cloud services or incorporate new ones, without having to re-orchestrate the cloud environment and re-establish identity and access control settings. IAM allows you to scale your cloud services as needed.
Since security and access controls are already established, you won't experience the delays and rising costs associated with resetting everything after migration. As a result, your teachers and students can enjoy a faster time to gaining value from your cloud investment.
IAM also saves you money by automating repetitive tasks, enabling delegation and self-service capabilities, consolidating vendors, and providing accurate accounting of licenses, thereby eliminating license creep or wasted licenses.
If you are considering moving to the cloud or expanding your cloud presence, the time to act is now. While there are hurdles, putting IAM in place will enable you to jump over them with ease and ensure a smooth transition to the cloud and better adoption of cloud apps and systems.