As we announced in our recent press release, RapidIdentity 4.0 is now available, so I thought I'd discuss what this enhanced functionality and scalability means for our new and existing customers.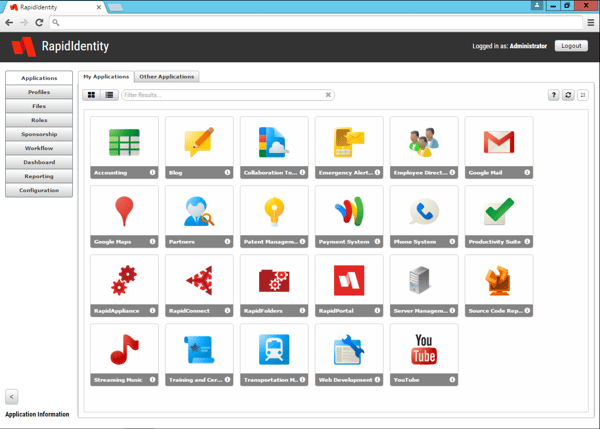 It's important that an identity and access management solution not only provides customers with the functionality they need now, but also into the future. While the growing use of social, mobile, and cloud applications has led to an explosion in the number of user identities that IT and security teams must manage and secure, legacy IAM systems simply were not designed for rapid expansion and are unable to quickly scale to handle this growth.
Our ongoing focus on increasing scalability has led us to completely redesign RapidIdentity's clustering system for the 4.0 release. With RapidIdentity 4.0, organizations have the ability to manage up to eight times more users, without additional hardware investments. For customers with large on-premise deployments, this can mean infrastructure cost savings of more than 50 percent, drastically reducing the total cost of ownership.
In addition to increased scalability, we have enhanced our solution from the interface to the appliance. Other key features of RapidIdentity 4.0 include:

Newly Designed Mobile Interface


The new mobile interface automatically scales to fit any screen size and is ergonomically designed to align with common thumb and finger gestures used on mobile devices. Users now also experience near-instant load times from login to RapidPortal.

Redesigned API
Developers can integrate nearly all of the self-service functionality available in RapidPortal – including account claiming, password resets, challenge question selection, entitlement requests, and guest user access workflows – into existing solutions. This allows customers to integrate self-service functions where they contextually make the most sense, while still enabling RapidIdentity to manage the entire backend IAM process.
Upgraded Metadirectory


RapidIdentity 4.0 addresses the needs of organizations needing to implement a new metadirectory, but wanting an alternative to Microsoft Active Directory or Novell eDirectory. The RapidIdentity identity store is a massively scalable, flexible, and adaptable enterprise-class metadirectory, capable of handling billions of objects and designed for organizations that manage millions of identities and entitlements.
RapidIdentity 4.0 is available immediately to new customers and as an upgrade to existing Identity Automation customers. To learn more or see RapidIdentity 4.0 in action, click here to request a demo.