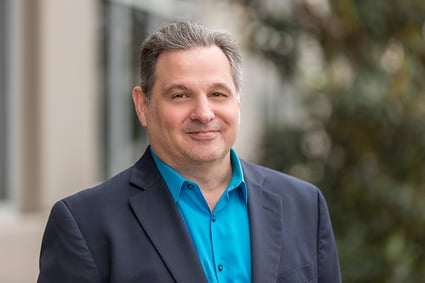 At Identity Automation, we're proud of our complete Identity and Access Management (IAM) products we provide to our customers. Part of being one of the top IAM solutions providers is keeping our products up-to-date to meet the changes and innovations our industry presents with daily. To do that well, we needed someone with a strong background in technology and the grit to keep our products moving forward.
In this month's Meet Our Team installment, we're talking all about our Director of Product, Dave Samia. Providing best-in-class products requires ongoing maintenance, and that takes some serious behind the scenes efforts. We are a constantly evolving company, and it's critical to have a director that can orchestrate the development of our products and services, so we're lucky to have Dave and his thirty plus years of experience leading the department.
Spinning the Golden Thread: From Telecommunications to IAM
Dave says that he grew up on the raised floor of a data center. He started in the telecommunications department of AT&T, working his way up to the role of systems programmer where he created service definitions for outsourcing deals and crafted all of the network management solutions for their outsourcing department. After 15 years at AT&T, Dave moved on to BMC Software as their Director of Product Management and Development.
"BMC marked the beginning of my product management experience," explains Dave. BMC wanted to step away from being an engineering-led company to a market-facing company. He says that he had endorsed BMC and their software previously, so he was excited when they reached out to him with an opportunity to be in a product management role.
From there, he went to Bridgeway Software to be Vice President of Product Engineering and Management where he honed his leadership skills in the SaaS industry for four years. After a brief stint as the Chief Technology Officer at Scepter Hospitality Resources, Dave decided to take some time off. During this break, he noticed an opportunity to build a product management department from the ground up at Identity Automation. "It sounded like a cool gig, so I applied!" says Dave.
Connecting the Dots at Identity Automation
Dave came onboard to establish product management discipline and practices. He said that up until that point, Identity Automation was very much engineering-led. His experience as the Director of Product Management at BMC prepared him for what we needed at Identity Automation. "Initially, it was solely our engineers that decided what was necessary and important. They did some cool stuff, but it wasn't necessarily aligned with the business vision or market direction and needs," explains Dave.
So, Dave rolled up his sleeves and got to work organizing, aligning, and prioritizing existing and upcoming development for our RapidIdentity product. He then developed the ROI justification, product positioning, use case examples, and user stories for our product department.
In terms of our RapidIdentity release process, Dave assimilated what he calls "aha ideas" into production. Along with that, he defined our 2019 and 2020 roadmap for RapidIdentity based on the company's goals, and IAM market needs.
"The focus of Project Management is to be sure that we're building the things that align to the market and company vision. It's connecting the dots," says Dave, "So if our company says 'we're going to go here,' we need to figure out how to get the products to support that vision and mission." For Dave, his role is all about assuring that the products we build are aligned to and in support of the company vision and where the company is trying to go in order to meet the demands of our industry.
Challenging the Status Quo
Dave says that there's a lot of opportunity for Identity Automation's products and appreciates that we're a constantly growing company. He elaborates, "What we build and provide to our customers is a constant work in progress. Change is difficult for most organizations, but if you're not changing, you're dead, so you have to evolve and adapt."
Dave believes in being the hardest worker in the room, and that aligns with our credo. His ability to grow and change as technology evolves is what enables him to make sure Identity Automation provides great products. "As long as we keep challenging the status quo, we have blue oceans for our product."
For more information on the products and services we offer at Identity Automation, Schedule a Demo or send us a note via our Contact Us page.