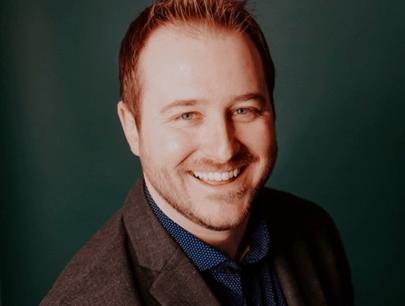 In this Meet Our Team installment, we're talking about Identity Automation Partner Manager, Mack Bickle. From his beginnings at a solar power startup to creating our Partner VIP program, Mack's passion for building partnerships and helping others achieve their goals made him a perfect fit for the role.
As Partner Manager, Mack oversees Identity Automation's VIP Program, which was created to reflect the importance of the relationship between our partners and their customers. It is Mack who is responsible for connecting partners with the tools, training, and resources necessary to become experts in our solutions.
Ultimately, Mack sees his role as being the conduit connecting Identity Automation to our partners. We are proud to have someone with years of business acumen at the forefront of the department, and our partners definitely agree!
A Track Record of Breaking New Ground
Mack works out of Identity Automation's Boise, Idaho office, a place where he feels right at home. In fact, Mack can trace his family's time in the Gem State back at least four generations. After earning a degree in communications from Boise State University, Mack became an inside sales representative for a startup that built and sold solar-powered light poles to cities, states, and other public sector entities.
A year later, Mack helped a friend realize his dream of building and operating a brewery in Idaho. It was there that he spearheaded the sales department, working to introduce Payette Brewing Company to craft beer lovers in Utah, a state known for its stringent laws regarding beer.
Following this experience, Mack wanted to expand the scope of his career. This led him to a sales role at Cradlepoint, a company that produces cloud-delivered 4G LTE network solutions. It was there that Mack helped form Cradlepoint's public sector sales team, selling mobile routers to first responders throughout the country.
Early on, Mack helped identify a trend within the public sector of first responders utilizing Cradlepoint routers in their vehicles. As a result, Cradlepoint expanded its focus beyond the retail market, creating an entire team devoted to public sector sales. Today, public sector sales has grown to be the second largest part of Cradlepoint's business.
Following Cradlepoint, Mack went to FirstNet, the only dedicated cellular network for first responders. FirstNet's mission stems from the need for reliable communications, initiated following communication issues during the 9/11 terrorist attacks. Mack was one of the 120 consultants initially hired to support the Commerce Department's effort to champion the growth of the network in every state.
After a year and a half of helping roll out out the nation's first end-to-end encrypted cellular network for first responders, Mack got a call from a friend with a proposition that brought him to Identity Automation. They let him know about our company and the solutions we provide. Following their conversation, Mack was intrigued. He says he was impressed by Identity Automation's software, and wanted to put his personal stamp on our partner department.
Building Partnerships and Fostering Growth at Identity Automation
Mack's prior experience in sales roles, working to expand his former employers' presence in new markets, helped prepare him for what he describes as "the hardest, yet most rewarding" position he has had to-date: Partner Manager at Identity Automation.
As Partner Manager, Mack is the entry point for new partners of Identity Automation—whether the partner is a reseller, distributor, development partner, or manufacturer. He also coordinates with our product development team to explore promising collaborations with new partners that extend the reach of Identity Automation.
Mack acts as a "gatekeeper," taking care of Identity Automation's partners, cultivating relationships, and building the trust required to acquire and maintain partnerships. As such, he's more than willing to wear multiple hats and go the extra mile to ensure that our partners are satisfied with their choice to collaborate with Identity Automation.
As a pioneer of our VIP Partner Program, Mack helped create Identity Automation's plan for what services we offer to our partners, and put a box around what levels of service the program provides. Mack has represented the program from conception, firm in his vision that partners be treated as extended members of our sales and technical teams.
The VIP Program was created to reflect the importance of the relationship between our partners and their customers by providing the tools, training, and resources necessary to become an expert in our solutions. The program features a tiered incentive system for our partners, so they are able to individualize their level of access to Identity Automation's resources.
Along with the VIP Program, Mack is building our strategic alliances with companies that offer complementary products to make it easier for our partners to offer a complete solution for their customers.
From Mack's perspective, partnerships with Identity Automation can always be a win-win for both the partner and Identity Automation. He truly believes in the strength of our RapidIdentity solution. "I'm not 'selling' Identity Automation," says Mack, "I'm asking the right questions to understand our partner's business focus. Knowing their focus allows me to accurately show them where Identity Automation fits into their solution portfolio."
In the long term, Mack strives to create a partner development team that is an extension of Identity Automation's sales team in order to foster additional growth and partnerships. He feels confident about the discussions he's had so far with our national solutions providers. "If the way things are going is any indication of what's to come, the only problem we will have is going to be keeping up with our growth!"
Moving the Needle Forward
At the end of the day, the same tenacious attitude that helped Mack win clients in telecommunications is what Mack sees at Identity Automation. "The Identity Automation team is dedicated to helping its customers operate more efficiently and securely, no matter where they are on their IAM journey," explains Mack. "We're on the precipice of explosive growth, and I know that our solution is the best fit for end users."
Mack's daily goal is to identify and complete at least three things that move the needle forward for Identity Automation and its customers every day. "There's a difference between being busy and being productive," explains Mack. He's known for being a direct, "no fluff" teammate. (Well, unless that fluff happens to be on the ski slopes.)
For more information about how to partner with Identity Automation or how a complete IAM can benefit your organization, send us a note via our Contact Us page.